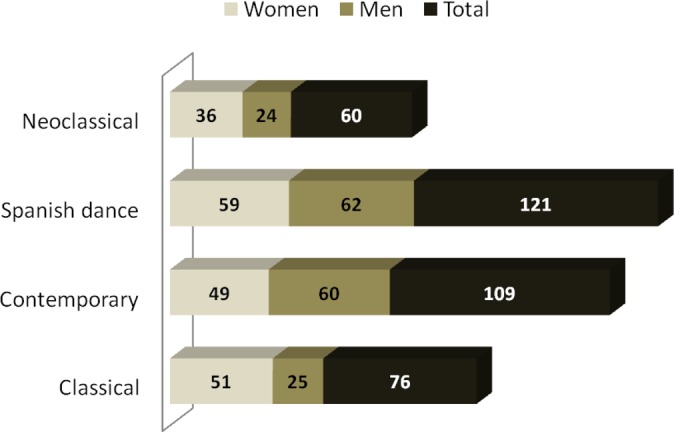 Publicado en: The Orthopaedic Journal of Sports Medicine
BACKGROUND:
Despite overuse injuries being previously described as the most frequent in ballet, there are no studies on professional dancers providing the specific clinical diagnoses or type of injury based on the discipline.
HYPOTHESIS:
Overuse injuries are the most frequent injuries in ballet, with differences in the type and frequency of injuries based on discipline.
STUDY DESIGN:
Cross-sectional study; Level of evidence, 3.
METHODS:
This was a descriptive cross-sectional study performed between January 1, 2005, and October 10, 2010, on injuries occurring in professional dancers from leading Spanish dance companies who practiced disciplines such as classical, neoclassical, contemporary, and Spanish ballet. Data, including type of injury, were obtained from specialized medical services at the Trauma Service, Fremap, Madrid, Spain.
RESULTS:
A total of 486 injuries were evaluated, a significant number of which were overuse disorders (P < .0001), especially in the most technically demanding discipline of classical ballet (82.60%). Injuries were more frequent among female dancers (75.90%) and classical ballet (83.60%). A statistically significant prevalence of patellofemoral pain syndrome was found in the classical discipline (P = .007). Injuries of the adductor muscles of the thigh (P = .001) and of the low back facet (P = .02) in the Spanish ballet discipline and lateral snapping hip (P = .02) in classical and Spanish ballet disciplines were significant.
CONCLUSION:
Overuse injuries were the most frequent injuries among the professional dancers included in this study. The prevalence of injuries was greater for the most technically demanding discipline (classical ballet) as well as for women. Patellofemoral pain syndrome was the most prevalent overuse injury, followed by Achilles tendinopathy, patellar tendinopathy, and mechanical low back pain.
CLINICAL RELEVANCE:
Specific clinical diagnoses and injury-based differences between the disciplines are a key factor in ballet.
Referencia:
F.J. Sobrino, C. de la Cuadra y P. Guillén, "Overouse injuries in profesional ballet, injury-based Differences among ballet disciplines". The Orthopaedic Journal of Sports Medicine, 3 (6), 2325967115590114. DOI: 10.1177/2325967115590114  (2015).